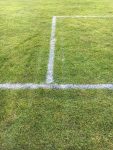 Sports Grounds
From the outset, we make an initial site visit allowing us to see the grounds first-hand and review your various needs. Following this visit we tailor services to suit your requirements and compile an efficient schedule and cost proposal to suit your budget.
Regular maintenance of all turfed areas including sports pitches to a height specific to the sporting season, cut and collect for formal areas and cut and spread evenly for informal. Choose from our range of mowers to give your preferred finish.
Sports Field Maintenance is provided throughout the year and includes line markings, aeration of fields, weed control and field treatments.
Hard standing areas, pathways, car parks, fence lines and borders are kept weed free by a safe and approved weed treatment programme.
Japanese Knotweed can be treated and removed from sites. We provide the knowledge and support to remove this evasive weed, treating the site to prevent its return.
Call Today: 01564 340560